My Name Is ...
Richard Nakata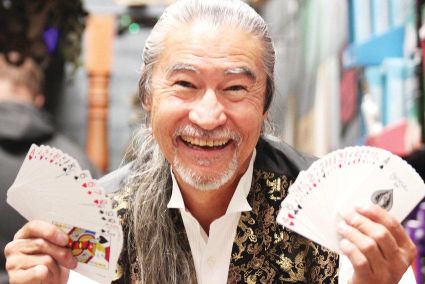 Richard Nakata says he honors his father with every performance of his magic act.

Magic man

I perform magic for folks at Reinke Bros. It keeps people entertained while they're waiting in line for the haunted house.
My father was a magician in Chicago. He was a rope magician, meaning he did sleight-of- hand tricks with lengths of rope. He was my hero and my best friend. Every act I do, I incorporate a rope trick in honor of him.

Big kids

I like the participants and volunteers in my magic shows to be successful. In the old days, magicians would do magic tricks where they would always win. They would do a trick called a 10-card poker deal, for instance, and they would win every hand. Well, I lose every time. Then I say "wow, you're quite the poker player!" I think that's better for magic. When I do my act, I hope people get the awe of being a kid again. I think we're all just big kids, and if you're not, I feel sorry for you.

With the bomb squad

I worked for the Arapahoe County Sheriff's Office for 24 years. I was part of a bomb squad, and I was there when three bombs went off when we were cleaning up after the Columbine shooting in 1999.
Even today, I don't do explosive effects in my act. I don't like fireworks, either. I'm just done with things that blow up.

Laugh or go crazy

Within two months of going to patrol, I was shot. It changed my life. After that, I learned as much as I could about not being shot again. I started training officers.
I still have a shotgun pellet in my hand. When I got shot, the first responders found me sitting there laughing. Law enforcement, doctors and nurses, firefighters - we have to laugh, or else we'll go crazy. If people heard some of the jokes we tell each other, they'd think we were nuts.

Hold onto your sense of humor.


Written by DAVID GILBERT
Posted Friday, October 5, 2018 10:26am
dgilbert@coloradocommunitymedia.com.
Original article at: https://coloradocommunitymedia.com/stories/my-name-is-richard-nakata,271090